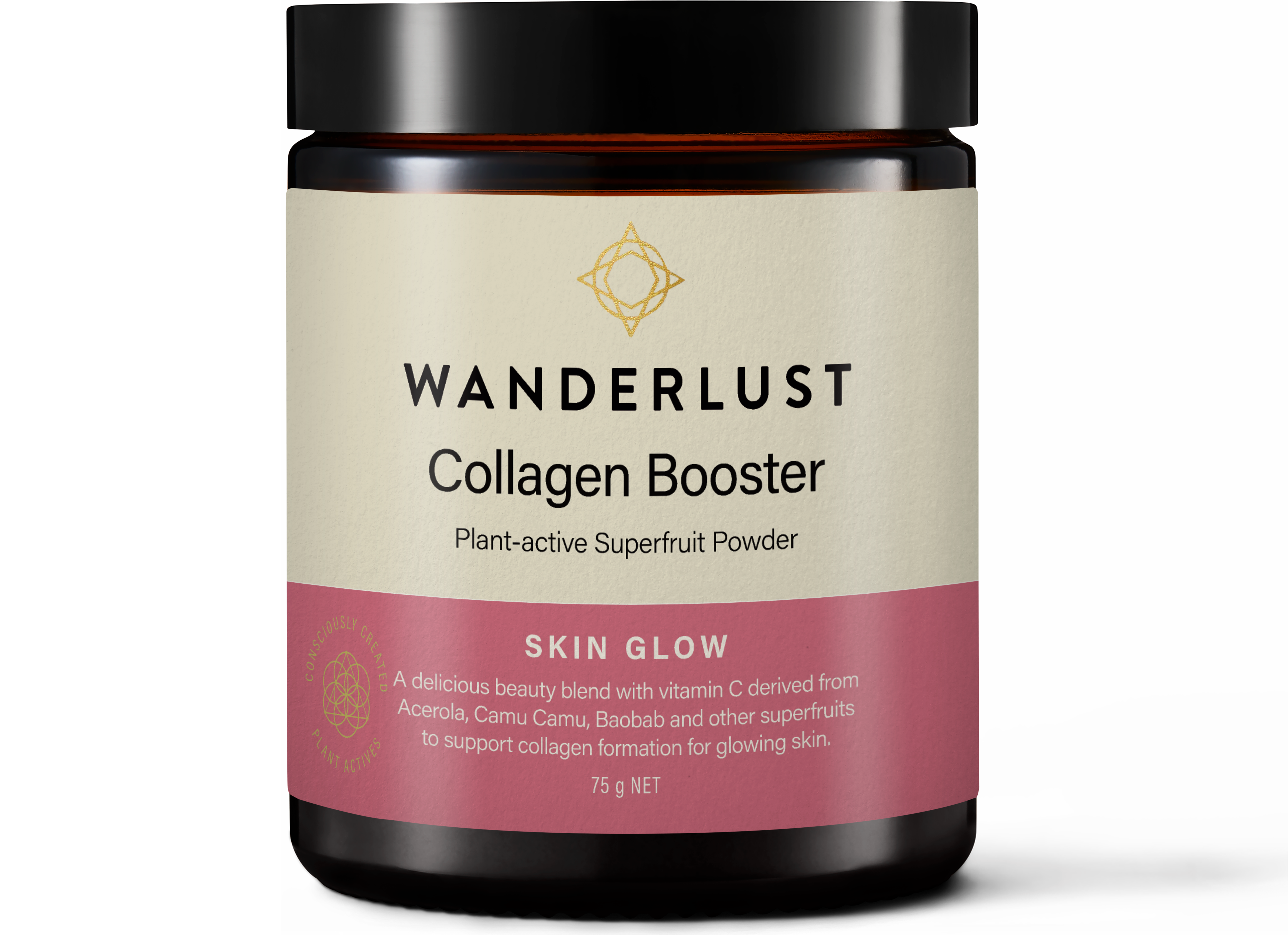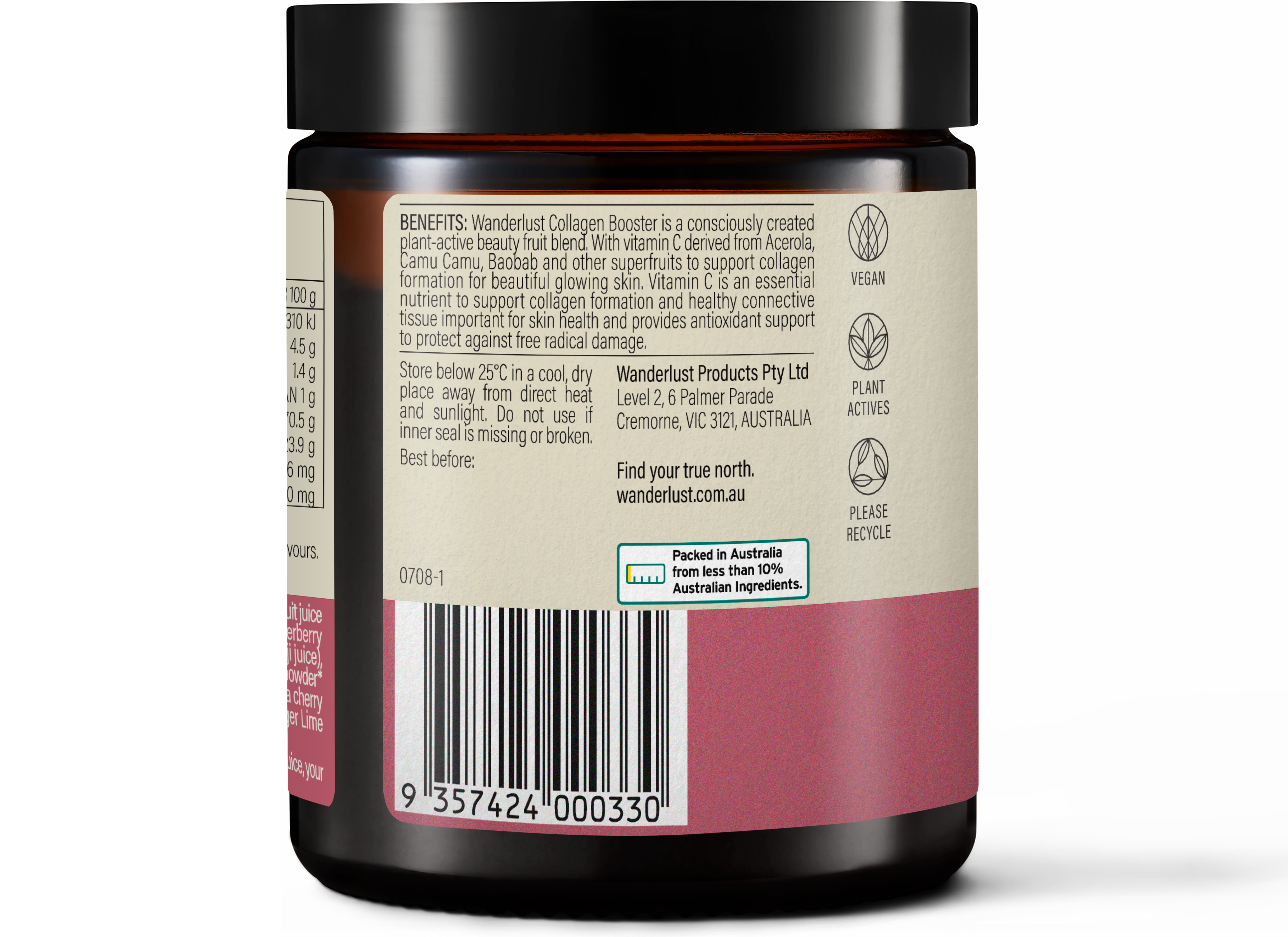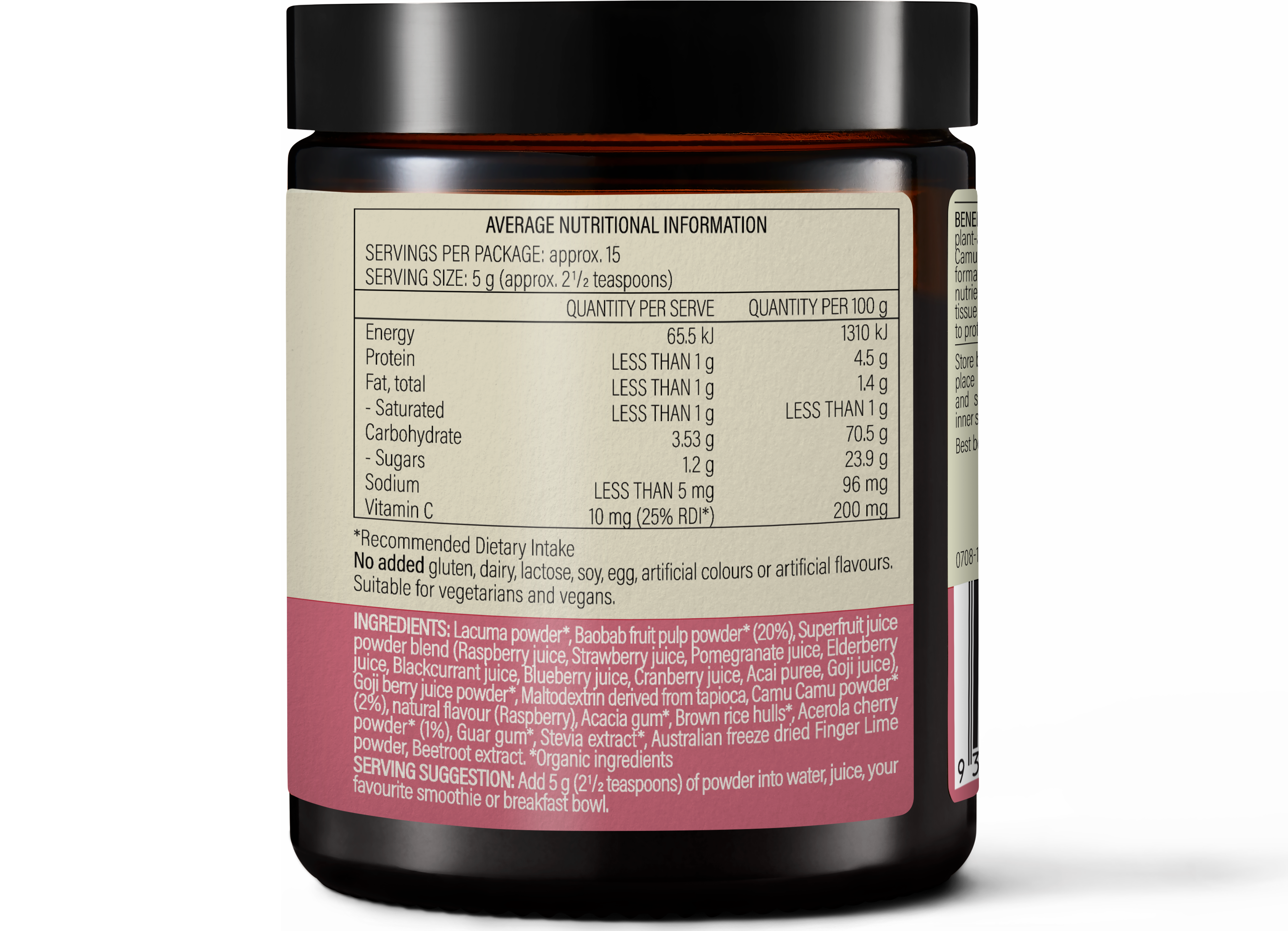 Wanderlust Collagen Booster
A delicious beauty blend with vitamin C derived from Acerola, Camu Camu, Baobab and other superfruits to support collagen formation for glowing skin.
Description
A consciously created plant-active blend of organic Acerola, organic Camu Camu, organic Baobab and additional superfruits as a natural source of vitamin C.
Collagen formation: Vitamin C is an essential nutrient to support collagen formation and healthy connective tissue for beautiful glowing skin.
Antioxidant: Vitamin C provides antioxidant support to help protect against free radical damage.
Fatigue: Vitamin C contributes to normal energy metabolism and the reduction of tiredness and fatigue.
Serving suggestion
Add 2 ½ teaspoons (5 g) of powder into water, juice, your favourite smoothie or breakfast bowl.
Ingredients
Lacuma powder*, Baobab fruit pulp powder* (20%), Superfruit juice powder blend (Raspberry juice, Strawberry juice, Pomegranate juice, Elderberry juice, Blackcurrant juice, Blueberry juice, Cranberry juice, Acai puree, Goji juice), Goji berry juice powder*, Maltodextrin derived from tapioca, Camu Camu powder* (2%), natural flavour (Raspberry), Acacia gum*, Brown rice hulls*, Acerola cherry powder* (1%), Guar gum*, Stevia extract*, Australian freeze dried Finger Lime powder, Beetroot extract.
*Organic ingredients
No added gluten, dairy, lactose, soy, egg, artificial colours or artificial flavours.
Suitable for vegetarians and vegans.
Sourcing
Organic freeze dried Finger Lime powder sourced from Australia.
Organic Acerola powder sourced from Brazil.
Organic Camu Camu powder sourced from Peru.
Organic Acacia gum powder sourced from France.
Organic Lucuma powder sourced from Peru.
Organic Stevia, Beetroot and Goji Berry juice powder sourced from China.
Organic Ground Rice hulls sourced from the USA.
Organic Guar gum powder sourced from India.
Organic Baobab fruit pulp powder sourced from South Africa.
Frequently Asked Questions
What format is this product?
Wanderlust Collagen Booster is powder format.
Are your products filled to the top?
Our products are filled by weight, not by volume.
Is your product tested for quality?
At Wanderlust quality and integrity is at the heart of what we do. Each step of our manufacturing process, from the selection of the raw materials to the manufacturing of the finished product, is performed with utmost care. All our products meet stringent quality standards.
What is your product formulation philosophy?
Our plant-active supplements and wholefoods are consciously created, made with integrity and purpose. At Wanderlust, our approach to excipients is simple – striving to use minimal excipients which serve a purpose. We stand by our core value to avoid using coating agents and tabletting aids, as such we have consciously left out tablets from our range - focusing only on capsules, powders and liquids. In addition, we take pride in the fact this product does not contain added artificial flavours, added artificial colours and of any added animal products.
How should Wanderlust products be stored?
We recommend Wanderlust Collagen Booster to be stored tightly sealed, below 25° in a cool, dry place that's out of direct sunlight. The product does not need to be refrigerated.
Is it suitable to take if I am taking prescription medication?
If you are currently taking pharmaceutical medications, we recommend that you consult with your healthcare professional for further information on the suitability for you.
When should this product be taken?
We recommend you take 5 g (2 1/2 teaspoons) as per the serving suggestion found on the product label. We suggest taking at a regular time where you can make it part of your daily wellbeing ritual to help with consistency.
Consciously created with intelligence and integrity, Wanderlust formulas have a clear purpose: to support you on your wellness journey.
We strive to harness the best from nature. We are dedicated to sourcing quality ingredients from around the world, selecting certified organic ingredients wherever possible.
Acerola
Malpighia glabra
Native to the West Indies and tropical America, it is now cultivated throughout the tropics and in subtropical areas around the world. Acerola strongly resembles the cherry, giving it the nick name Barbados cherry and West Indian cherry. Known to have one of the richest natural sources of vitamin C.
Although commonly called a cherry (due to the size), the odour and flavour of cooked acerola are similar to tart apples or crab tree apples.
The fruit is a natural source of vitamin C which is used as an antioxidant to contribute to:
Cell protection from free radical damage
Normal collagen formation for the normal function of skin
Baobab
Adansonia digitata
Native to Africa and Australia, and now introduced to tropical and subtropical regions, this iconic tree of African savannahs has a lifespan of several hundreds of years.
With social and economic importance, it is known to be one of the most important indigenous fruit trees of sub-Saharan Africa. The tree provides food and fibre, with almost all tree parts including the fruit pulp and shells, seeds, leaves, flowers, roots and bark can be used. Baobabs contribute significantly to economy of many rural communities. Mainly leaves and fruits are collected for food and sold as raw or processed into a variety of products.
The tree is different from any other, when bare of leaves, the spreading branches look like roots sticking up into the air, rather as if it had been planted upside-down, which is where its nickname, Upside-down tree, originated. The trunk is also smooth and shiny, not at all like the bark of other trees, and usually grows as a solitary individual.
An old Baobab tree can create its own ecosystem, as it supports the life of countless creatures, from the largest of mammals to thousands of tiny insects. Birds nest in its branches; baboons devour the fruit; fruit bats drink the nectar and pollinate the flowers, and elephants have been known to chop down and consume a whole tree.
Traditionally:
Along the Zambezi, the tribes believe that when the world was young the Baobabs were upright and too proud, lording over the lesser plants. The gods became angry and uprooted the Baobabs, thrusting them back into the ground, root upwards.
Camu Camu
Myrciaria dubia
Native to the Amazon river region, Camu Camu is now grown throughout the world in tropical and subtropical climates. This water-loving shrub prefers growing on banks of streams, lakes or in swamps, where the lower part of the plant is often submerged.
Camu Camu is a very juicy berry but has a sharply acidic flavour, which is why it's rarely eaten in its natural state, except by the indigenous peoples who inhabit the fruit's natural territories. Rather, it is generally consumed in the form of juices, purees, ice-creams and more.
Traditionally:
Very occasionally the Amazonians would suck the fruit, usually when they were very thirsty, because at times, the flooded black waters where Camu Camu grows weren't drinkable. More often the fruit was used as fish bait for Gamitana fish.
Goji Berry
Lycium barbarum
Also referred to as Chinese Wolfberries, this deciduous woody shrub is native throughout China, Tibet and Mongolia and is now grown worldwide. The etymological origin of "Goji" is unclear, but it is likely a simplified spelling of the Mandarin word gǒuqǐ.
Described to have a tangy yet sweet taste, the small teardrop-shaped, vibrant red-orange berries are delicate, and must be shaken from the vine rather than picked in order to avoid spoiling. Besides the fruit, use of other parts of the Goji berry plant, including flower, leaf, seed, and root bark, are also recorded.
Traditionally:
Traditionally, dried Goji berries are cooked before they are consumed and also are commonly used in Chinese soups and as herbal tea.
Finger Lime
Citrus australasica
Originating in Australia, this plant is native to the Bundjalung region, growing in the tropical to subtropical rainforests of NSW and QLD.
Known as Gulalung in the Bundjalung language, this fruit is prized for its unique caviar-like pulp and various colours which can vary between yellow, green, pale pink and crimson.
Lime finger can be boiled up added to drinks, meals and also eaten raw.
The botanical name Citrus is derived from the Greek word citron which in turn is derived from the word kédros, as cedar and citrus fruit and leaves share a related scent. Australasica is reference to the plant's Australian origin.
Traditionally:
The small fruits were originally used by Indigenous tribes as a food source; the limes were foraged in tropical jungles for their tangy pulp.
Consciously Created
Striving for minimal excipients is what sets us apart. From inception, we have approached what we do differently by questioning the use of coating agents, plastic packaging and animal-derived ingredients - so you can positively support yourself and the planet.
Plant-Based Power
Committed to supporting you with plant-active supplements and wholefoods, our range strives to harness the best from nature. Dedicated to sourcing quality ingredients from around the world, we select certified organic ingredients where possible.
All Vegan
Our plant-active wellness supplements and wholefoods are consciously created with intelligence, integrity and purpose—vegan-friendly, minimally processed and free from added artificial flavours and added artificial colours.
Sustainability
We may not have all the answers you seek, but know we're committed to making greener choices for you and the planet every day. From our packaging, ingredients through to our B-Corp certification for our mushroom wholefood range, we are committed to being a force for positive change.