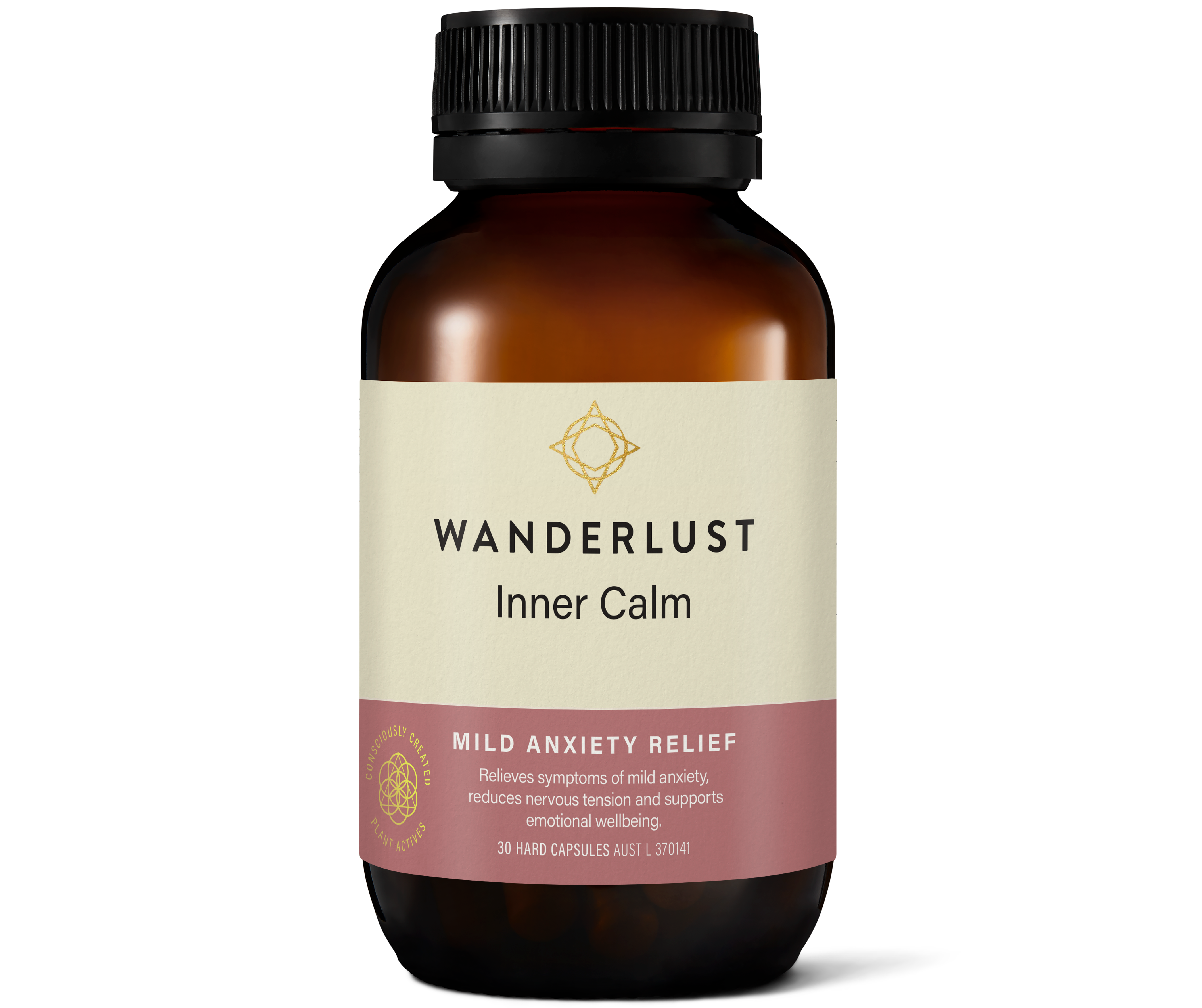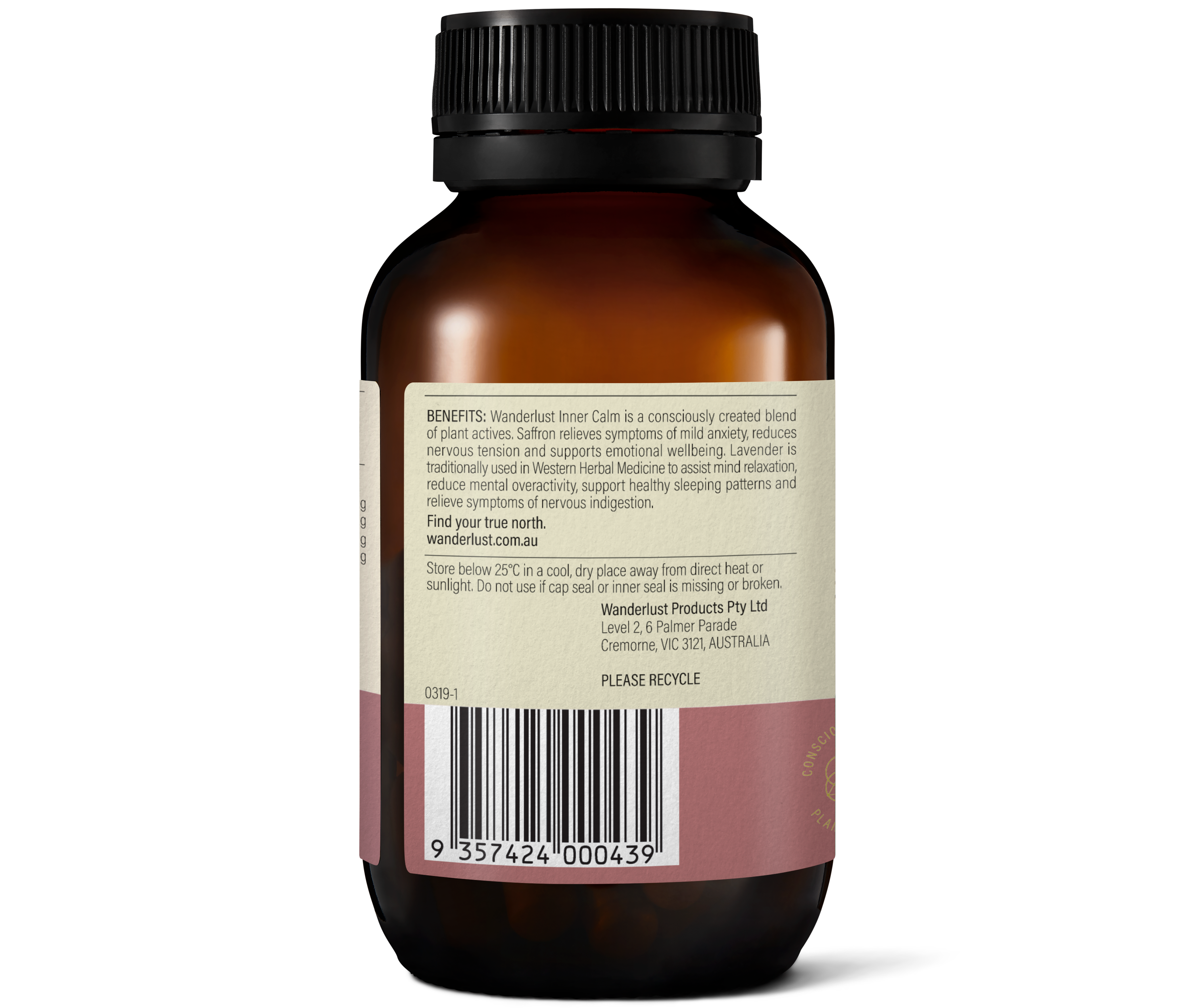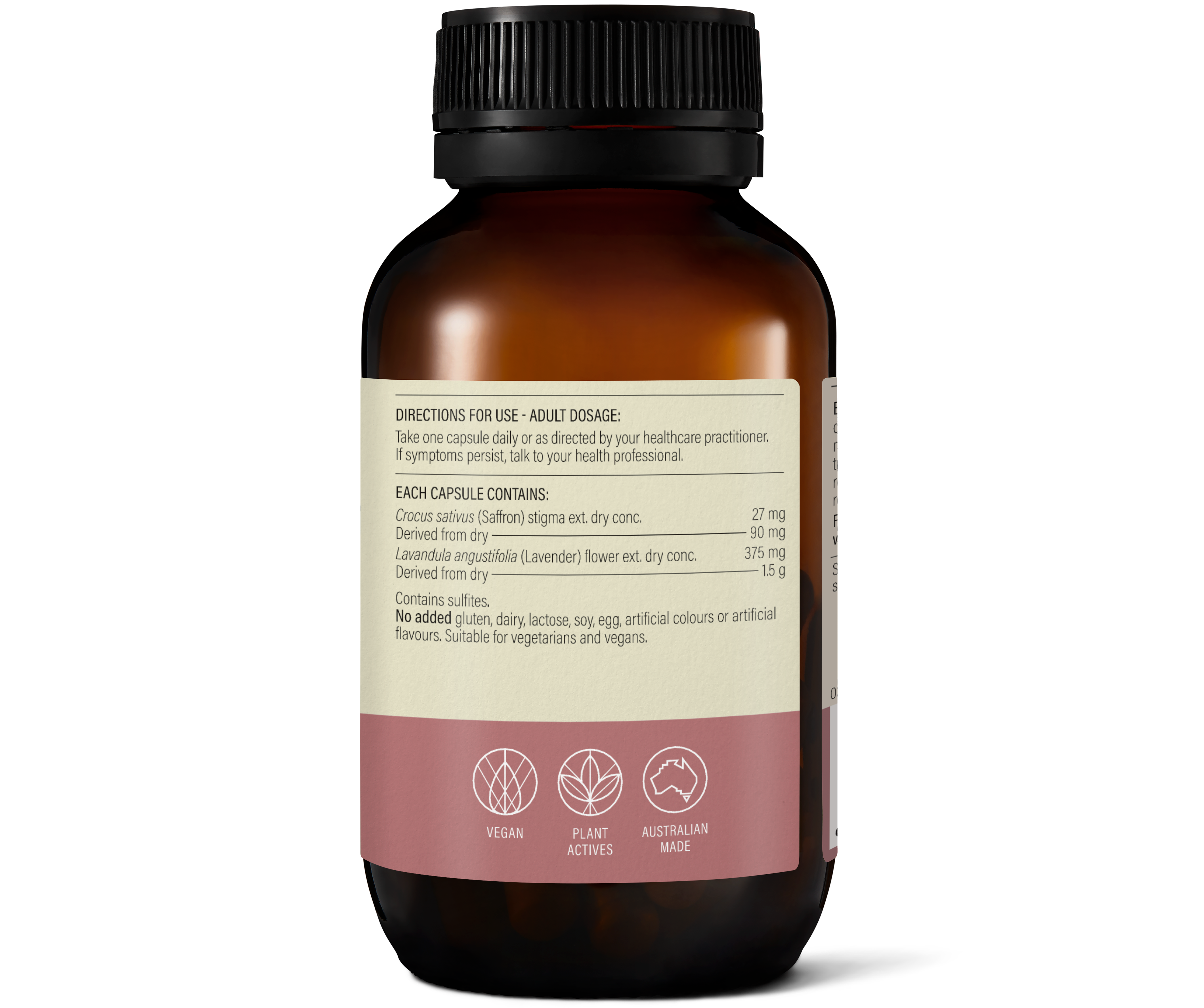 Relieves symptoms of mild anxiety, reduces nervous tension and supports emotional wellbeing
Description
A consciously created plant-active blend of Saffron and Lavender.
Mild anxiety symptom relief: Saffron relieves symptoms of mild anxiety and reduces nervous tension.

Emotional and mental wellbeing: Saffron helps support emotional and general mental wellbeing.

Calm nerves: Saffron is used to calm nerves and the mind.

Nervous tension: Saffron helps reduce nervous tension and relieve excess nervous energy.

Mind relaxation: Lavender is traditionally used in Western Herbal Medicine to assist mind relaxation and reduce mental overactivity.

Sleep support: Lavender is traditionally used in Western Herbal Medicine to support healthy sleeping patterns, relieve sleeplessness and reduce restless sleep.

General health and wellbeing: Lavender is traditionally used in Western Herbal Medicine to support general health and wellbeing.
Directions
Adult dosage
Take one capsule daily or as directed by your healthcare practitioner. If symptoms persist, talk to your health professional.
Ingredients
Each capsule contains:
Crocus sativus (Saffron) stigma ext. dry conc. 27 mg
Derived from dry 90 mg
Lavandula angustifolia (Lavender) flower ext. dry conc. 375 mg
Derived from dry 1.5 g
Contains sulfites.
No added gluten, dairy, lactose, soy, egg, artificial colours or artificial flavours.
Suitable for vegetarians and vegans.
Sourcing
Lavender sourced from USA.
Saffron sourced from Spain.
Frequently Asked Questions
What format is this product?
Wanderlust Inner Calm is capsule format.
Is this product Australian made?
Yes, Wanderlust Inner Calm is proudly made in Australia.
Is your product tested for quality?
At Wanderlust quality and integrity is at the heart of what we do. Each step of our manufacturing process, from the selection of raw materials to the manufacturing of the finished product, is performed with utmost care. All our products meet stringent quality standards.
What type of evidence is this product based on?
Wanderlust Inner Calm is based on traditional Western Herbal Medicine and scientific evidence.
What is your product formulation philosophy?
Our plant-active supplements, wholefoods and superfoods are consciously created, made with integrity and purpose. At Wanderlust, our approach to excipients is simple – striving to use minimal excipients which serve a purpose. We stand by our core value to avoid using coating agents and tabletting aids, as such we have consciously left out tablets from our range - focusing only on capsules, powders and liquids. In addition, we take pride in the fact this product does not contain added artificial flavours, added artificial colours or any added animal products.
How should Wanderlust products be stored?
We recommend Wanderlust Inner Calm to be stored tightly sealed, below 25° C in a cool, dry place that's out of direct sunlight. The product does not need to be refrigerated.
Is it suitable to take if I am taking prescription medication?
If you are currently taking pharmaceutical medications, we recommend that you consult with your healthcare professional for further information on the suitability for you.
When should this product be taken?
We recommend you take one capsule daily as per the directions for use found on the product label. We suggest taking at a regular time where you can make it part of your daily wellbeing ritual to help with consistency.
This medicine may not be right for you. Read the warnings before purchase. Follow the directions for use. If symptoms persist, talk to your health professional.
Consciously created with intelligence and integrity, Wanderlust formulas have a clear purpose: to support you on your wellness journey.
Striving to harness the best from nature, we source 100% of active ingredients from plants. We are dedicated to sourcing quality ingredients from around the world, selecting certified organic ingredients wherever possible.
Lavender
Lavandula angustifolia
Native to northern Africa and the mountainous regions of the Mediterranean, Lavender is now cultivated around the world for is essential oil and medicinal use.
With its silvery-green foliage and spikes of purple, pink, or white flowers, this perennial shrub and belongs to the mint family, Lamiaceae. Lavandula is a genus of 47 known species with the English and French Lavender being the most familiar.
The word "lavender" comes from the Latin lavare meaning 'to wash', where the Romans used the fragrant oil in their baths.
Used in traditional Western Herbal Medicine to:
•  Helps assist mind relaxation and relieve mental overactivity
•  Support health sleeping patterns
•  Relieve sleeplessness and reduce restless sleep
• Calm the mind
• Relive nervous tension and unrest
• Relieve symptoms of nervous indigestion
• Support general health and wellbeing
Traditionally:
Lavender has been used for thousands of years for fragrances, cooking and as an ornamental shrub. Egyptians used lavender oil in embalming, and the Greeks benefited from its medicinal properties. Lavender flowers represent grace and calmness.
Saffron
Crocus sativus
It is believed that saffron originated and was first cultivated in Greece, but today the spice is primarily grown in Iran, Greece, Morocco, India and Spain.
Saffron describes both the plant and the spice resulting from its dried stigmas. Known as 'red gold', it is the most expensive spice in the world. It is valued in refined culinary art and as a dye in textile and woodwork. Saffron has a strong, exotic aroma and a bitter taste and is used to colour and flavour many Mediterranean and Asian dishes, particularly rice and fish, and English, Scandinavian, and Balkan breads.
The name is derived from zafaran, the Arabian word for 'yellow'.
This versatile plant not only has been used for food, dye agent and perfume, but also recognised for its medicinal properties known to;
Calm the mind
Reduce tension and relieve excess nervous energy
Support emotional and mental wellbeing
Consciously Created
Striving for minimal excipients is what sets us apart. From inception, we have approached what we do differently by questioning the use of coating agents, plastic packaging and animal-derived ingredients - so you can positively support yourself and the planet.
Plant-Based Power
Committed to supporting you with plant-active supplements and wholefoods, our range strives to harness the best from nature. Dedicated to sourcing quality ingredients from around the world, we select certified organic ingredients where possible.
All Vegan
Our plant-active wellness supplements and wholefoods are consciously created with intelligence, integrity and purpose—vegan-friendly, minimally processed and free from added artificial flavours and added artificial colours.
Sustainability
We may not have all the answers you seek, but know we're committed to making greener choices for you and the planet every day. From our packaging, ingredients through to our B-Corp certification for our mushroom wholefood range, we are committed to being a force for positive change.