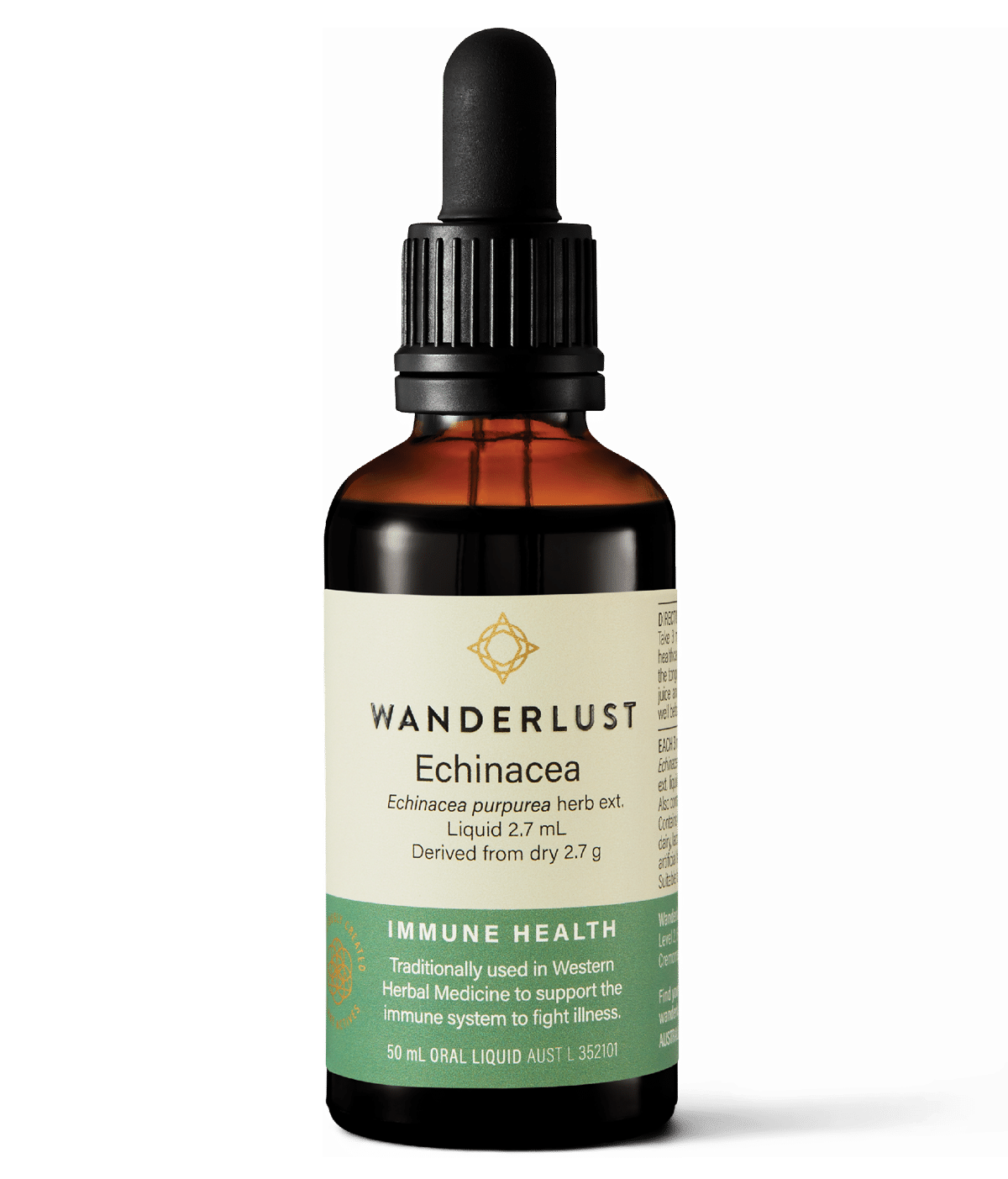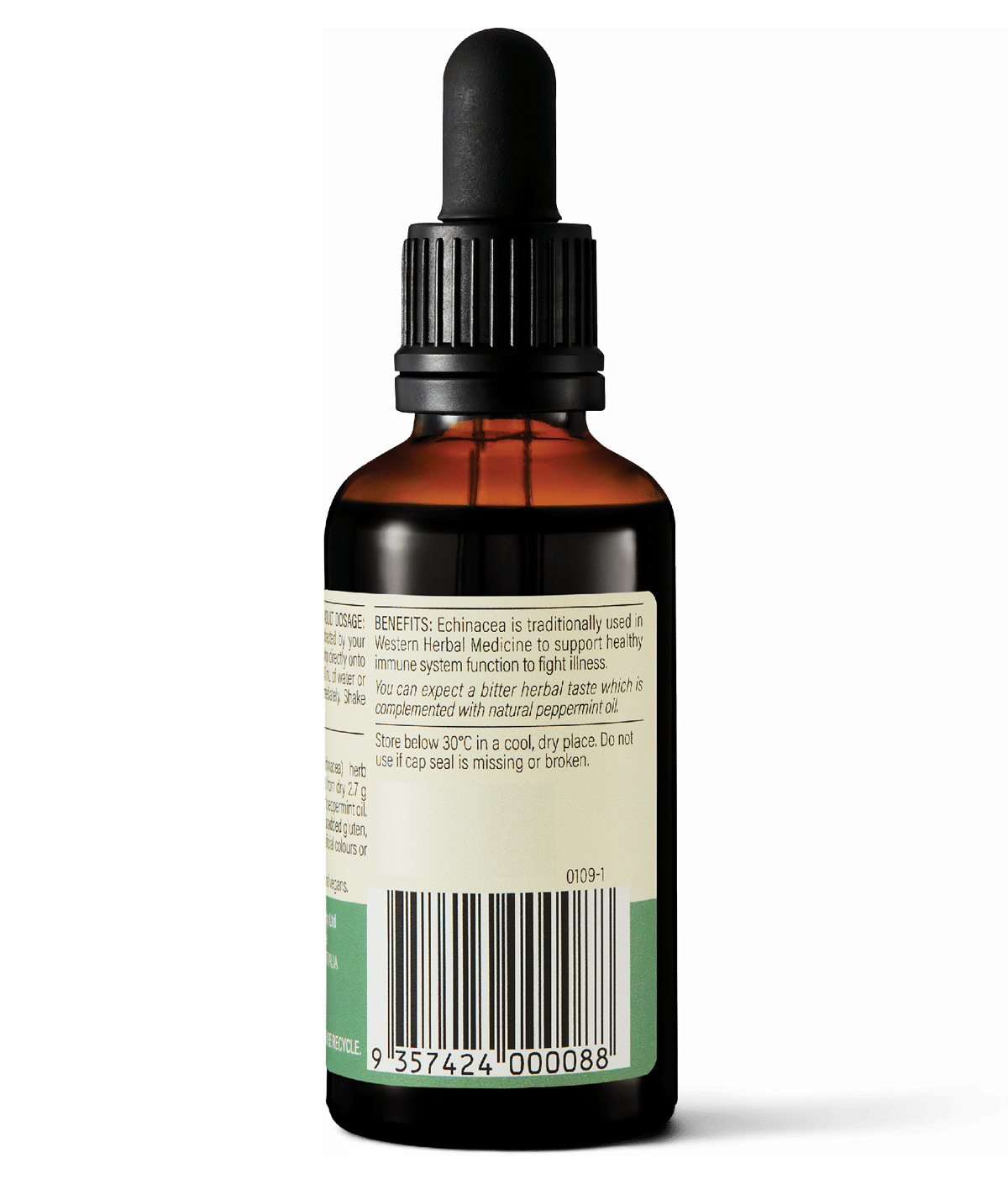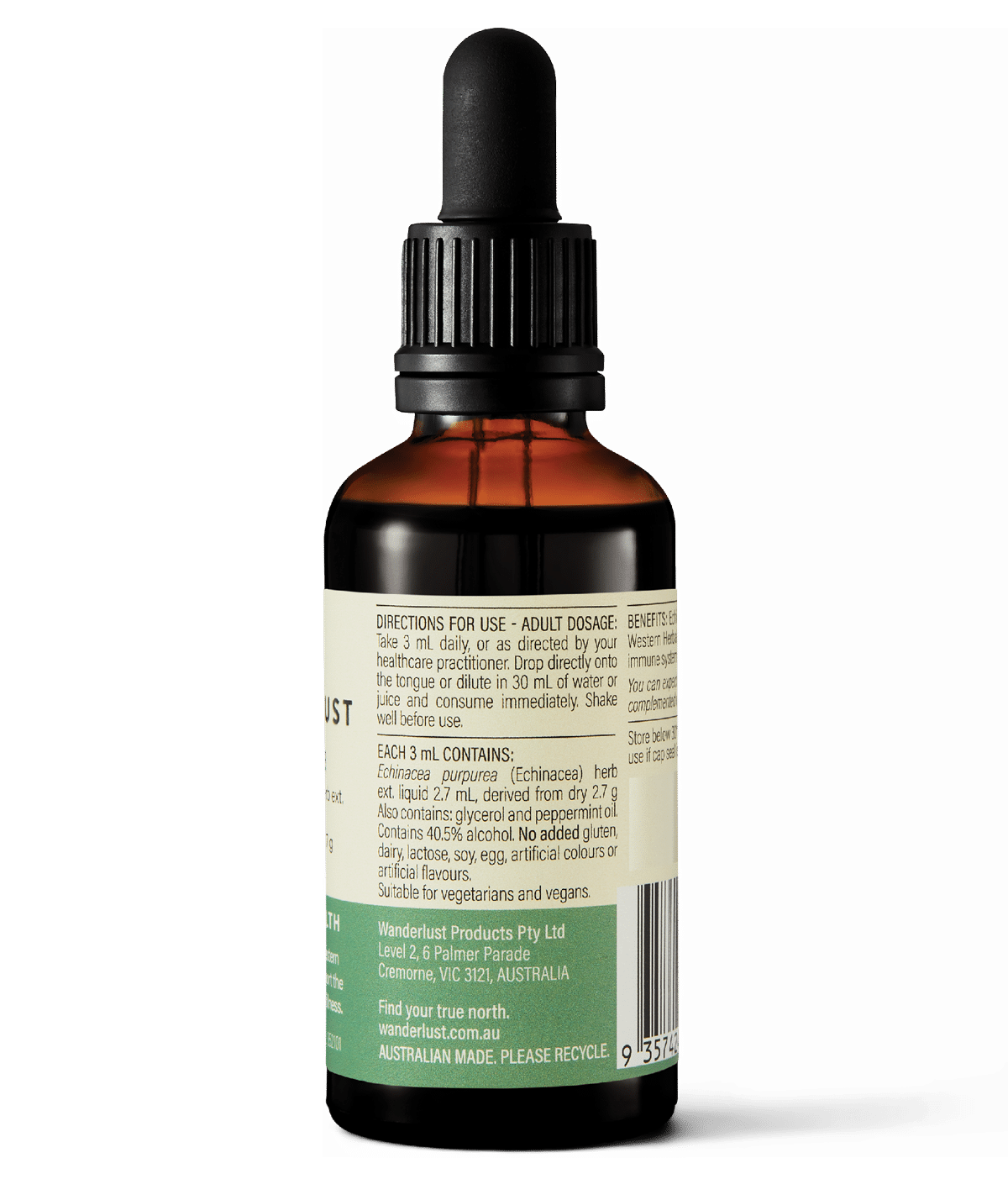 Traditionally used in Western Herbal Medicine to support the immune system to fight illness.
Description
A consciously created plant active in a convenient, readily absorbed liquid herbal extract.
Immune system health: Echinacea is traditionally used in Western Herbal Medicine to help support immune system function to fight illness.
You can expect a bitter taste, which is typical of herbal extracts and all of their goodness.
Complemented with natural peppermint oil.
Directions
Adult dosage
Take 3 mL daily, or as directed by your healthcare practitioner. Drop directly onto the tongue or dilute in 30 mL of water or juice and consume immediately. Shake well before use.
Ingredients
Each 3 mL contains:
Echinacea purpurea (Echinacea) herb ext. liquid 2.7 mL
Derived from dry 2.7 g
Also contains glycerol and peppermint oil.
Contains 40.5% alcohol.
No added gluten, dairy, lactose, soy, egg, artificial colours or artificial flavours.
Suitable for vegetarians and vegans.
Sourcing
Echinacea sourced from Italy.
Frequently Asked Questions
What format is this product?
Wanderlust Echinacea is a liquid herbal extract.
What are liquid herbal extracts?
Liquid herbal extracts are distinctive. Our plant-active liquid herbal extracts are vegan, 100% plant origin, rapidly absorbed and made using traditional methods of extraction (water and ethanol). The extraction involves minimal processing which allows the taste and aroma to come through.
Why is there alcohol in the product?
Alcohol has been used as a solvent in herbal extracts for thousands of years. It remains popular today to extract herbs and preserve the product shelf life. Alcohol is suitable for use as an ingredient in complementary medicines including liquid herbal extracts.
How much alcohol is in a dose of a liquid herbal extract?
Wanderlust Echinacea contains 40.5% alcohol. The dosage of liquid extract taken is small. We recommend following the the directions of use on the product label.
Can you add liquid herbal extract into hot water?
There are a number of different ways to take your liquid herbal extracts. Our favourite is to dilute the directed dose in 30 mL of still or sparkling water, consuming immediately. You can also add the dosage to juice, herbal tea, hot water and consume immediately or take it directly under the tongue.
What does it taste like?
A bitter or earthy flavour is typical of herbal extracts. If you are new to liquid herbal extracts, we suggest diluting the extract with water or juice as your taste buds adapt. Complemented by natural peppermint oil.
What are your liquid herbal extract dropper tops made from?
Our dropper tops are made from Thermoplastic Elastomer Compound (TPE) that are 100% recyclable and are appropriate for someone with a latex allergy (nonallergenic).
Are your products non-GMO?
Yes, all Wanderlust products are GMO free.
Is this product Australian made?
Yes, Wanderlust Echinacea is proudly made in Australia.
Is your product tested for quality?
At Wanderlust quality and integrity is at the heart of what we do. Each step of our manufacturing process, from the selection of raw materials to the manufacturing of the finished product, is performed with utmost care. All our products meet stringent quality standards.
What type of evidence is this product based on?
Wanderlust Echinacea is based on traditional Western Herbal Medicine.
How should Wanderlust products be stored?
We recommend Wanderlust Echinacea to be stored tightly sealed, below 30° in a cool, dry place that's out of direct sunlight. The product does not need to be refrigerated.
Is it suitable to take if I am taking prescription medication?
If you are currently taking pharmaceutical medications, we recommend that you consult with your healthcare professional for further information on the suitability for you.
When should this product be taken?
We recommend you take 3 mL daily as per the directions of use on the product label. We suggest taking at a regular time where you can make it part of your daily wellbeing ritual to help with consistency.
Always read the label. Follow the directions for use.
RRP $29.99 / 50 mL Oral Liquid
Consciously created with intelligence and integrity, Wanderlust formulas have a clear purpose: to support you on your wellness journey.
We strive to harness the best from nature. We are dedicated to sourcing quality ingredients from around the world, selecting certified organic ingredients wherever possible.
Echinacea
Echinacea purpurea
Native to North America it is now widely grown across the world. Echinacea is a member of the Asteraceae family which includes daisies as well as edible herbs like Dandelion and Arnica. It does not hold many common English names, but one of the few is the Purple Coneflower, named because of the attractive flower head with purple, pink petals and cone-shaped centre.
Echinacea is derived from the Greek word echinos, meaning 'hedgehog', which refers to the cone-shaped, prickly centre which is said to resemble the spines of a hedgehog.
Traditionally used in Western Herbal Medicine to:
Maintain healthy immune system function
Traditionally:
Echinacea was one of the most widely used medicinal plants of the Great Plains Native Americans.
Consciously Created
Striving for minimal excipients is what sets us apart. From inception, we have approached what we do differently by questioning the use of coating agents, plastic packaging and animal-derived ingredients - so you can positively support yourself and the planet.
Plant-Based Power
Committed to supporting you with plant-active supplements and wholefoods, our range strives to harness the best from nature. Dedicated to sourcing quality ingredients from around the world, we select certified organic ingredients where possible.
All Vegan
Our plant-active wellness supplements and wholefoods are consciously created with intelligence, integrity and purpose—vegan-friendly, minimally processed and free from added artificial flavours and added artificial colours.
Sustainability
We may not have all the answers you seek, but know we're committed to making greener choices for you and the planet every day. From our packaging, ingredients through to our B-Corp certification for our mushroom wholefood range, we are committed to being a force for positive change.