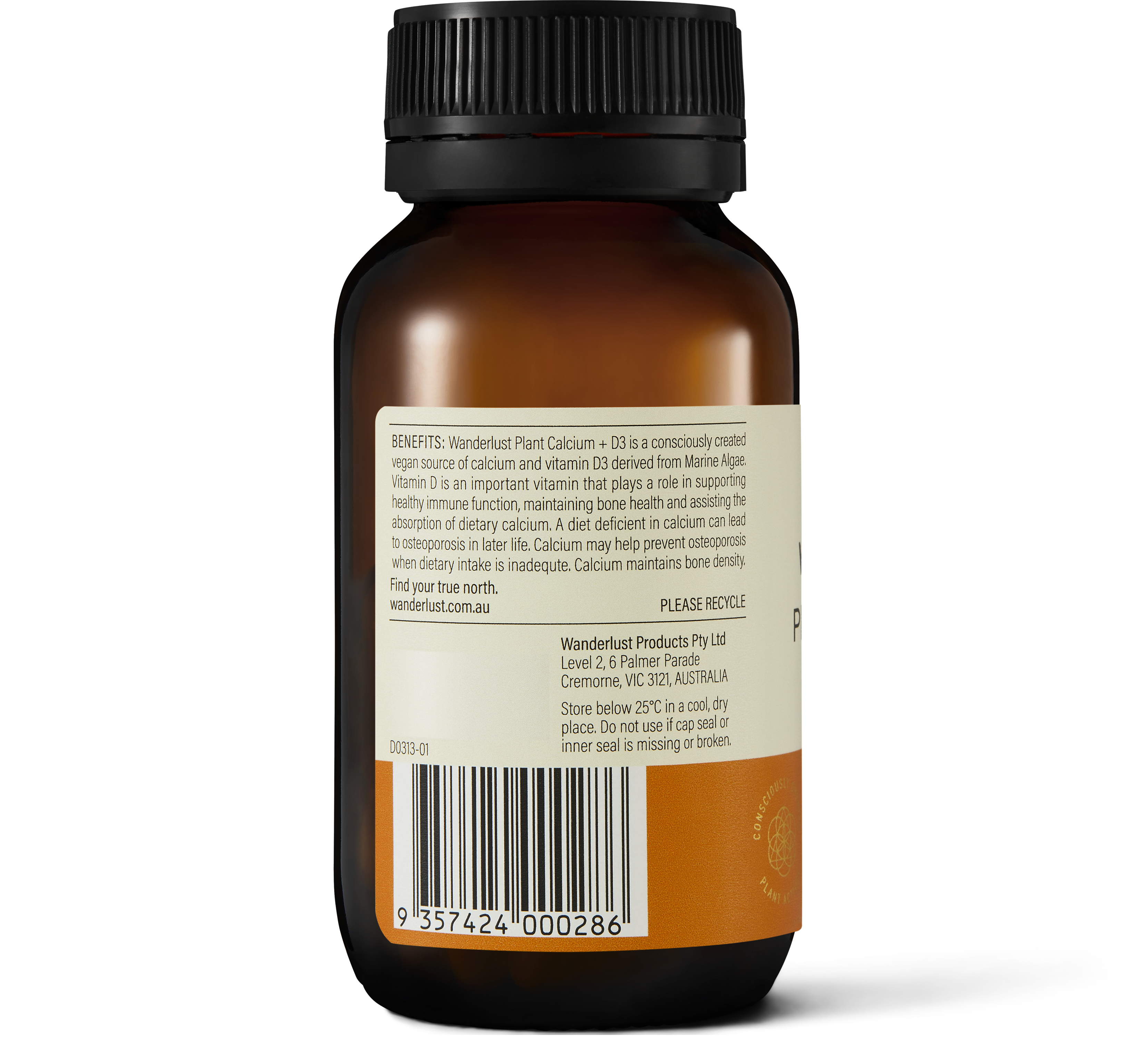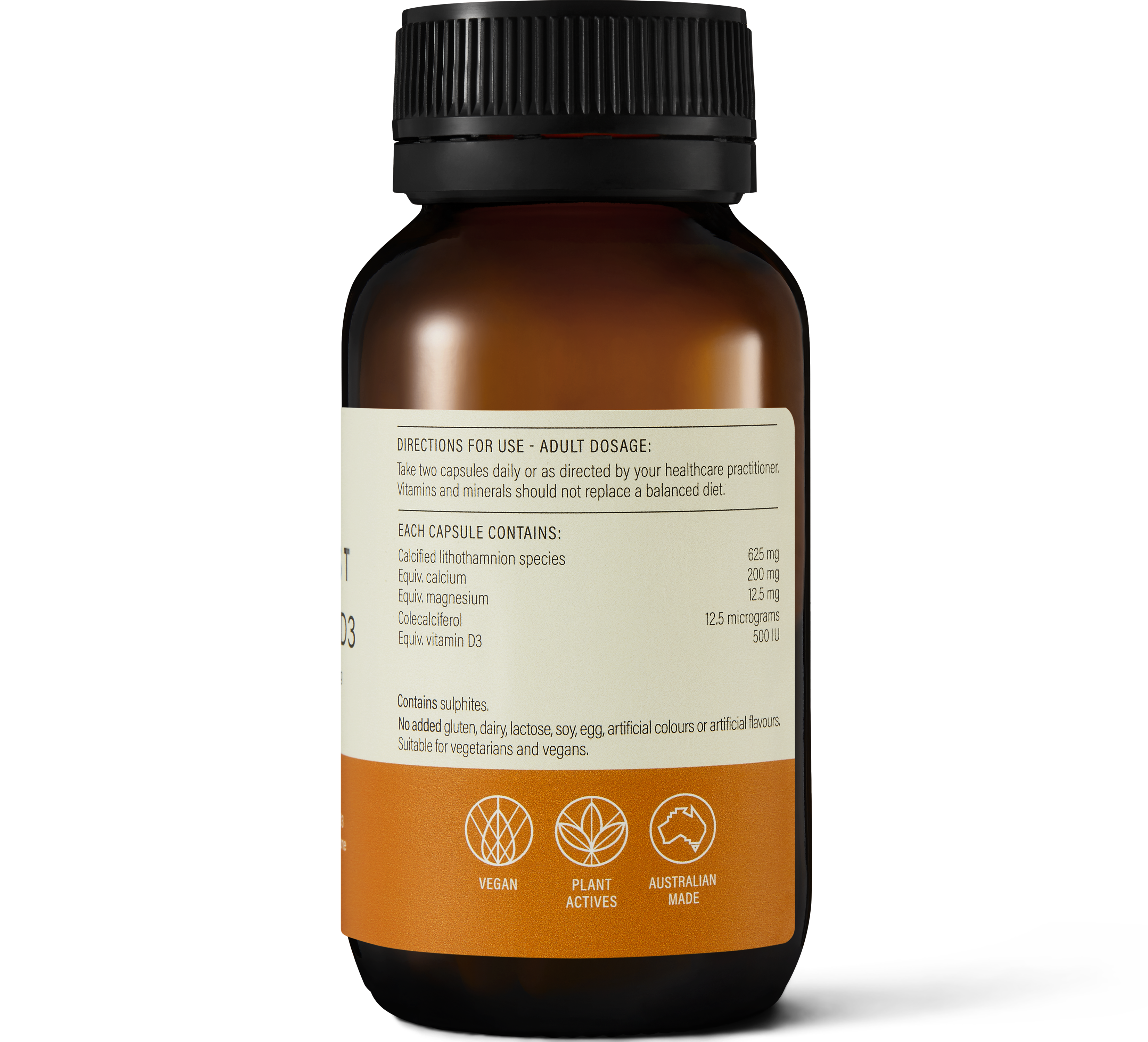 Wanderlust Plant Calcium + D3
Vegan source of calcium and vitamin D3 derived from Marine Algae to support bone strength and health.
Description
A consciously created plant-active, vegan source of calcium and vitamin D derived from marine algae.
Bone health: Vitamin D3 and calcium support bone strength and mineralisation.
Bone density: Calcium supports bone density.
Immune health: Vitamin D3 supports healthy immune system function.
Calcium absorption: Vitamin D3 supports dietary absorption of calcium. A diet deficient in calcium can lead to osteoporosis in later life.
Muscle function: Calcium and vitamin D derived from marine algae helps support muscle function.
Teeth health: Calcium support healthy teeth.
Directions
Adult dosage
Take two capsules daily or as directed by your healthcare practitioner. Vitamin and mineral supplements should not replace a balanced diet.
Ingredients
Each capsule contains:
Calcified lithothamnion species (Calcified Seaweed) 625 mg
Equiv. calcium 200 mg
Equiv. magnesium 12.5 mg
Colecalciferol 12.5 micrograms
Equiv. vitamin D3 500 IU
Contains sulfites.
No added gluten, dairy, lactose, soy, egg, artificial colours or artificial flavours.
Suitable for vegetarians and vegans.
Sourcing
Marine algae derived from UK and France.
Frequently Asked Questions
What format is this product?
Wanderlust Plant Calcium + D3 is capsule format.
Is this product Australian made?
Yes, Wanderlust Plant Calcium + D3 is proudly made in Australia.
Is your product tested for quality?
At Wanderlust quality and integrity is at the heart of what we do. Each step of our manufacturing process, from the selection of raw materials to the manufacturing of the finished product, is performed with utmost care. All our products meet stringent quality standards.
What type of evidence is this product based on?
Wanderlust Plant Calcium + D3 is based on scientific evidence.
What is your product formulation philosophy?
Our plant-active supplements and wholefoods are consciously created, made with integrity and purpose. At Wanderlust, our approach to excipients is simple – striving to use minimal excipients which serve a purpose. We stand by our core value to avoid using coating agents and tabletting aids, as such we have consciously left out tablets from our range - focusing only on capsules, powders and liquids. In addition, we take pride in the fact this product does not contain added artificial flavours, added artificial colours or any added animal products.
How should Wanderlust products be stored?
We recommend Wanderlust Plant Calcium + D3 to be stored tightly sealed, below 25° in a cool, dry place that's out of direct sunlight. The product does not need to be refrigerated.
Is it suitable to take if I am taking prescription medication?
If you are currently taking pharmaceutical medications, we recommend that you consult with your healthcare professional for further information on the suitability for you.
When should this product be taken?
We recommend you take two capsules daily as per the directions for use found on the product label. We suggest taking at a regular time where you can make it part of your daily wellbeing ritual to help with consistency.
This medicine may not be right for you. Read the label before purchase.
Consciously created with intelligence and integrity, Wanderlust formulas have a clear purpose: to support you on your wellness journey.
Striving to harness the best from nature, we source 100% of active ingredients from plants. We are dedicated to sourcing quality ingredients from around the world, selecting certified organic ingredients wherever possible.
Marine Algae
Algae are almost ubiquitous, between microscopic and macroscopic species, and can be found in either fresh water or in oceans. Marine macroalgae, commonly known as seaweed, are plant-like organisms that can be seen by the naked eye and come in many varieties ranging from a few millimetres or centimetres in size, while the largest grow to a length of 30 to 50 meters[1].
Botanically, macroalgae are classified as green, brown, or red and is estimated to be at least 30,000 known species of macroalgae found in the marine environment[2].
Given that all the substances that seaweeds need in order to survive are dissolved in the water, macroalgae, unlike plants, have no need of roots, stems, or real leaves. Nutrients and gases are exchanged directly across the surface of the seaweed by diffusion and active transport.
Marine algae draw from the sea a wealth of mineral elements, and also known as a source of vitamins.
Marine algae is used as a natural source of calcium and vitamin D3 and to:
Support healthy muscle function
Support bone strength and bone mineralisation
Support healthy teeth
Support bone health
Traditionally:
For several centuries there has been a traditional use of seaweeds as food in China, Japan and the Republic of Korea.
Resources:
1. American Scientist, accessed 14 Dec 2020, The Science of Seaweed
2. Sustainable Energy Ireland, accessed 14 Dec 2020, A review of the Potential of Marine Algae as a Source of Biofuel in Ireland (2009)
Consciously Created
Striving for minimal excipients is what sets us apart. From inception, we have approached what we do differently by questioning the use of coating agents, plastic packaging and animal-derived ingredients - so you can positively support yourself and the planet.
Plant-Based Power
Committed to supporting you with plant-active supplements and wholefoods, our range strives to harness the best from nature. Dedicated to sourcing quality ingredients from around the world, we select certified organic ingredients where possible.
All Vegan
Our plant-active wellness supplements and wholefoods are consciously created with intelligence, integrity and purpose—vegan-friendly, minimally processed and free from added artificial flavours and added artificial colours.
Sustainability
We may not have all the answers you seek, but know we're committed to making greener choices for you and the planet every day. From our packaging, ingredients through to our B-Corp certification for our mushroom wholefood range, we are committed to being a force for positive change.