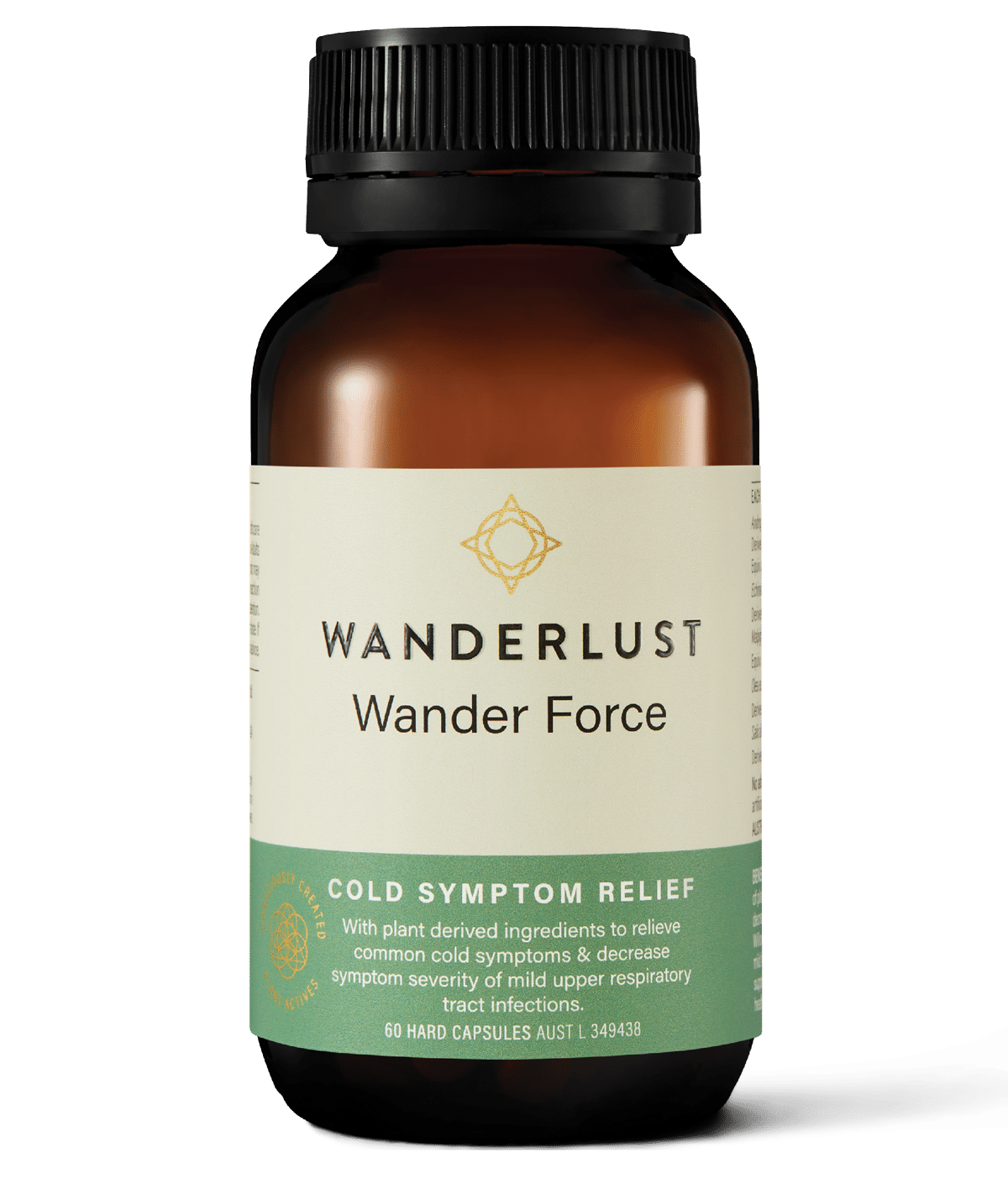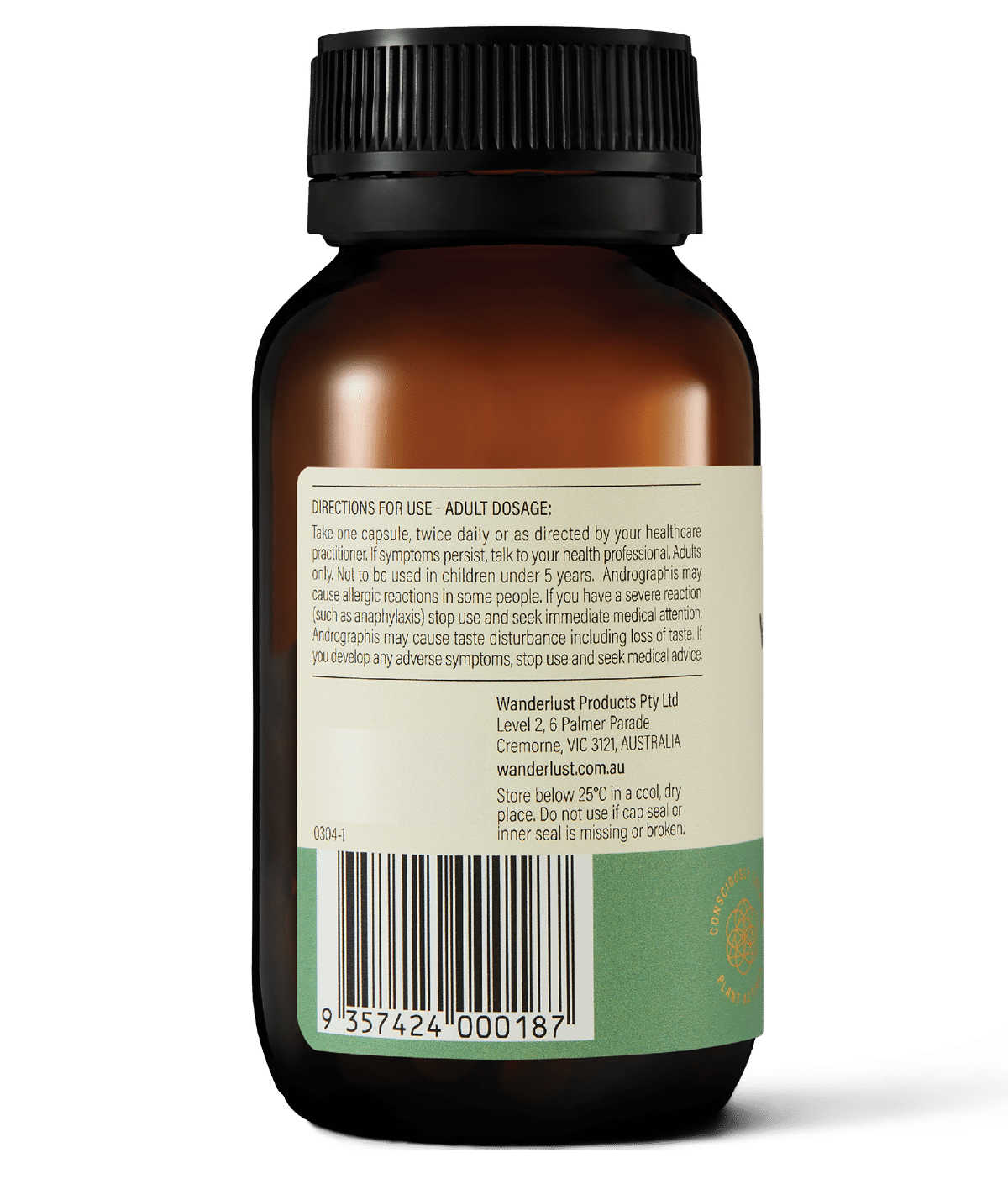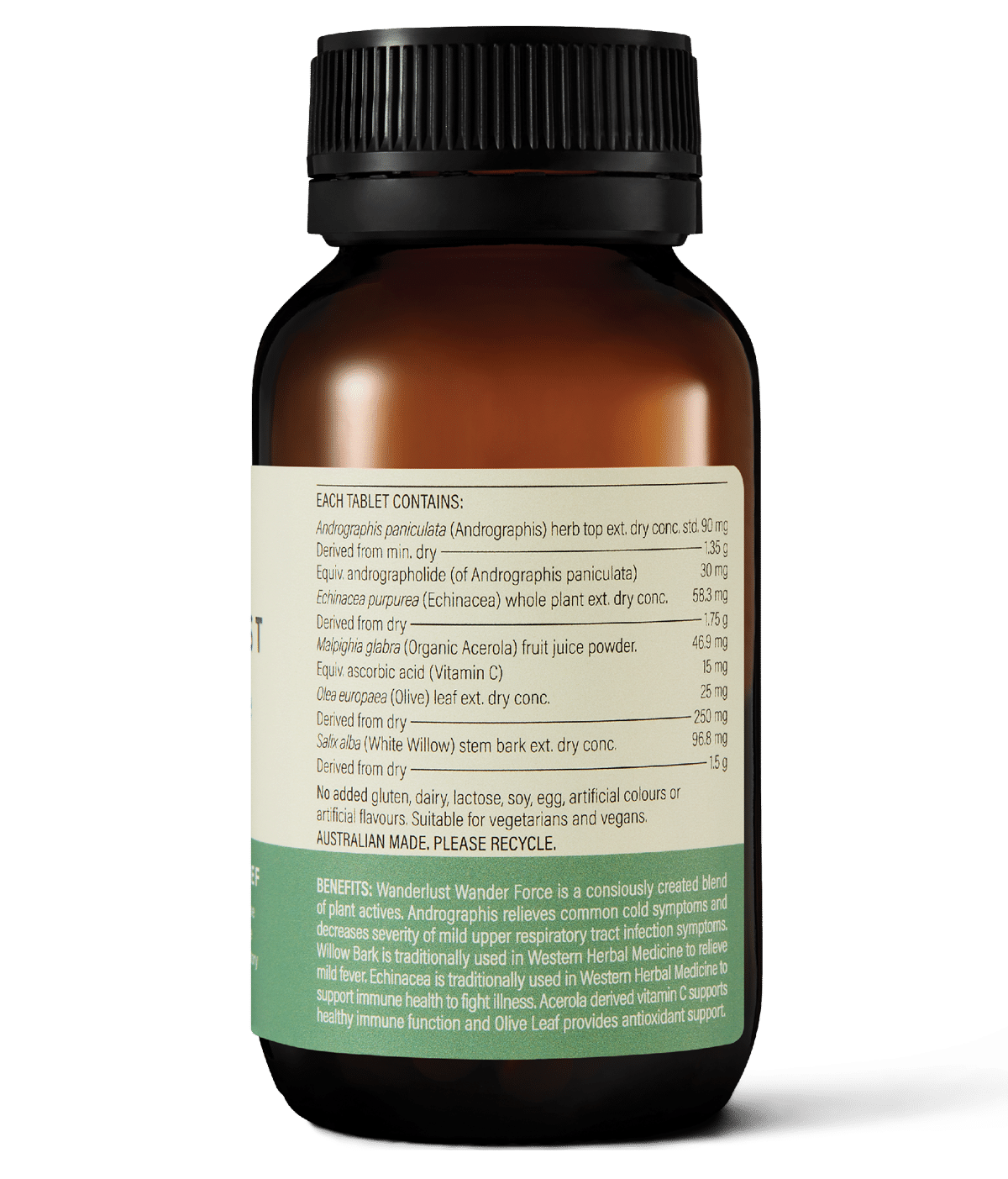 With plant derived ingredients to relieve common cold symptoms and decrease symptom severity of mild upper respiratory tract infections.
Description
A consciously created plant-active blend of Andrographis, Echinacea, Olive Leaf, White Willow and Acerola.
Immune system health: Echinacea is traditionally used in Western Herbal Medicine to help support healthy immune system function to help fight illness.
Common cold symptom relief: Andrographis helps relieve symptoms of common cold and the severity of mild upper respiratory tract infections.
Mild fever relief: Willow bark is traditionally used in Western Herbal Medicine to relieve mild fever and reduce body temperature.
General health: Acerola derived vitamin C helps support general health and wellbeing.
Antioxidant: Vitamin C derived from Acerola and Olive Leaf helps provide antioxidant support to protect against free radical damage.
Directions
Adult dosage
Take one capsule, twice daily or as directed by your healthcare practitioner. If symptoms persist, talk to your health professional. Adults only. Not to be used in children under 5 years.
Andrographis may cause allergic reactions in some people. If you have a severe reaction (such as anaphylaxis) stop use and seek immediate medical attention. Andrographis may cause taste disturbance including loss of taste. If you develop any adverse symptoms, stop use and seek medical advice.
Ingredients
Each capsule contains:
Andrographis paniculata (Andrographis) herb top ext. dry conc. std. 90 mg
Derived from min. dry 1.35 g
Equiv. andrographolide (of Andrographis paniculata) 30 mg
Echinacea purpurea (Echinacea) whole plant ext. dry conc. 58.3 mg
Derived from dry 1.75 g
Malpighia glabra (Organic Acerola) fruit juice powder. 46.9 mg
Equiv. ascorbic acid (Vitamin C) 15 mg
Olea europaea (Olive) leaf ex t. dry conc. 25 mg
Derived from dry 250 mg
Salix alba (White Willow) stem bark ext. dry conc. 96.8 mg
Derived from dry 1.5 g
No added gluten, dairy, lactose, soy, egg, artificial colours or artificial flavours.
Suitable for vegetarians and vegans.
Sourcing
Organic Acerola sourced from Switzerland and Brazil.
Echinacea, Olive leaf and White Willow sourced from China.
Frequently Asked Questions
What format is this product?
Wanderlust Wander Force is capsule format.
Is this product Australian made?
Yes, Wanderlust Wander Force is proudly made in Australia.
Is your product tested for quality?
At Wanderlust quality and integrity is at the heart of what we do. Each step of our manufacturing process, from the selection of raw materials to the manufacturing of the finished product, is performed with utmost care. All our products meet stringent quality standards.
What type of evidence is this product based on?
Wanderlust Wander Force is based on scientific and traditional evidence.
What is your product formulation philosophy?
Our plant-active supplements and wholefoods are consciously created, made with integrity and purpose. At Wanderlust, our approach to excipients is simple – striving to use minimal excipients which serve a purpose. We stand by our core value to avoid using coating agents and tabletting aids, as such we have consciously left out tablets from our range - focusing only on capsules, powders and liquids. In addition, we take pride in the fact this product does not contain added artificial flavours, added artificial colours or any added animal products.
How should Wanderlust products be stored?
We recommend Wanderlust Wander Force to be stored tightly sealed, below 25° in a cool, dry place that's out of direct sunlight. The product does not need to be refrigerated.
Is it suitable to take if I am taking prescription medication?
If you are currently taking pharmaceutical medications, we recommend that you consult with your healthcare professional for further information on the suitability for you.
When should this product be taken?
We recommend you take one capsule, twice daily as per the directions for use found on the product label. We suggest taking at a regular time where you can make it part of your daily wellbeing ritual to help with consistency.
Always read the label. Follow the directions for use. If symptoms persist, talk to your health professional.
Consciously created with intelligence and integrity, Wanderlust formulas have a clear purpose: to support you on your wellness journey.
We strive to harness the best from nature. We are dedicated to sourcing quality ingredients from around the world, selecting certified organic ingredients wherever possible.
Echinacea
Echinacea purpurea
Native to North America it is now widely grown across the world. Echinacea is a member of the Asteraceae family which includes daisies as well as edible herbs like Dandelion and Arnica. It does not hold many common English names, but one of the few is the Purple Coneflower, named because of the attractive flower head with purple, pink petals and cone-shaped centre.
Echinacea is derived from the Greek word echinos, meaning 'hedgehog', which refers to the cone-shaped, prickly centre which is said to resemble the spines of a hedgehog.
Traditionally used in Western Herbal Medicine to:
Maintain healthy immune system function
Traditionally:
Echinacea was one of the most widely used medicinal plants of the Great Plains Native Americans.
Olive Leaf
Olea europaea
First cultivated in the Mediterranean basin, this small evergreen tree is now grown throughout the world. As its Mediterranean origins might suggest, the olive tree prefers warm weather, full sun and the dry, rocky soil characteristic ofmountainous coasts. A single tree can live for hundreds or even thousands of years.
Olives are not used as a natural fruit due to their extremely bitter taste but are rather consumed either as olive oil as the main culinary usage. This may help explain why its botanical name Olea is derived from elaia, the ancient Greek work for olive, and oleum the Latin word for oil.
Olive leaf can be used:
As an antioxidant to reduce free radicals forming in the body
Traditionally:
Olive leaf has been closely associated with religion and sociocultural needs, used as a symbol of peace, purity and goodness by ancient Romans, Greeks and Egyptians. The leaves represented heavenly power in the tombs of ancient Egyptian pharaohs and benediction in the gilded crowns of Roman Caesars. To the ancient Greeks, victors in the ancient Olympic Games were crowned with wreaths of its leaves. Peace remains the most popular association, with the olive branch appearing on the seal of the United Nations and on British and American coins as a symbol of peace.
Willow Bark
Salix alba
Native to Europe, Asia and North America, and now grown throughout the world, this tall, fast-growth, deciduous tree is also recognised as Brittle Willow or simply Willow.
The name, White Willow, derives from the white tone to the undersides of the leaves. It is also a dioecious, meaning there are both male and female trees.
Traditionally used in Western Herbal Medicine to:
Relieve mild fever and reduce body temperature
Traditionally:
The use of willow bark dates to the time of Hippocrates.
Andrographis
Andrographis paniculate
Commonly known as Indian Echinacea this tall herb is native to India, Ceylon and Java however is now naturalised in other parts of the world.
The herb top of the plant are used to:
Reduce symptoms of common cold
Relieve the severity of symptoms of mild upper respiratory tract infections
Acerola
Malpighia glabra
Native to the West Indies and tropical America, it is now cultivated throughout the tropics and in subtropical areas around the world. Acerola strongly resembles the cherry, giving it the nick name Barbados cherry and West Indian cherry. Known to have one of the richest natural sources of vitamin C.
Although commonly called a cherry (due to the size), the odour and flavour of cooked acerola are similar to tart apples or crab
tree apples.
The fruit is a natural source of vitamin C which is used as an antioxidant and to:
Support healthy immune system function
Consciously Created
Striving for minimal excipients is what sets us apart. From inception, we have approached what we do differently by questioning the use of coating agents, plastic packaging and animal-derived ingredients - so you can positively support yourself and the planet.
Plant-Based Power
Committed to supporting you with plant-active supplements and wholefoods, our range strives to harness the best from nature. Dedicated to sourcing quality ingredients from around the world, we select certified organic ingredients where possible.
All Vegan
Our plant-active wellness supplements and wholefoods are consciously created with intelligence, integrity and purpose—vegan-friendly, minimally processed and free from added artificial flavours and added artificial colours.
Sustainability
We may not have all the answers you seek, but know we're committed to making greener choices for you and the planet every day. From our packaging, ingredients through to our B-Corp certification for our mushroom wholefood range, we are committed to being a force for positive change.